anchor
digital pleistocene: sanford kwinter at SCI-Arc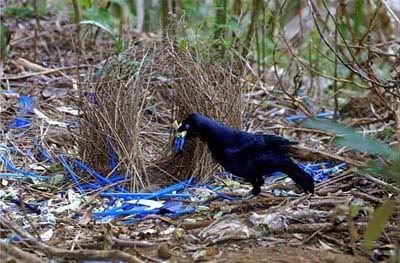 there is yet to be any mention of
chreods
(i feel it's coming soon), but i found the introduction to this seminar course no less interesting. pleistocene describes the period during which humans evolved into their current form, and kwinter suggests that a return to understanding this primal existence or 'archaic endowment' is necessary to understanding current modes of media and communication. you are probably asking how, if at all, this could be related to architecture, but i think it has a strong basis as it relates to ecology, or plainly, an organisms relationship to the environment.
an example he gave was the bower bird, an animal that builds intricate bowers as a means to attract mates i.e. the bird that builds the most elaborate structure gets the most play (let this be motivation to you aspiring young architects). drawing from george schaller, who stated that the bird cannot be understood without its association to the nest, kwinter believes that humans are likewise understood as unique creatures with an exponential ability to organize the environment. he stresses the physiological component of human relationship to the environment, specifically as it relates to our instincts as predators. given that most actions are communicational, predators have the most evolved means for communication, and these means of communication are 90% territorial.
it is within this territorial understanding that we begin to reveal new spatial understandings.
should be an interesting class...
*i also learned that bonobo monkeys are the only other mammal besides humans that 'do it' face to face. for you romantics out there, you should know that you are in the extremely small minority.