anchor
scattered, smothered, covered and UNpacked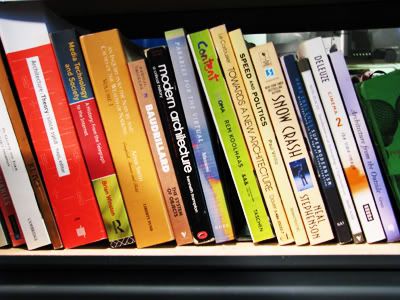 somewhere within this collection of books lies a compelling and well articulated thesis argument just waiting to be extracted (now if i only knew where to begin looking). at this stage so much is left to faith, and it's easy to get lost, or at least misdirected, from the path of poignant research. for me, these distractions manifest in various forms, ranging from the provocatively intellectual discourse on 'overlaying multiple ontologies vs. collage' (Kipnis) to the sparsely intellectual studio banter on the topic of 'predatory hawks and river whales' (it's not suppose to make sense). also on the docket is a coachella redux project that will involve a ton of bamboo, a 1000-linear-foot-12-car Amtrak station and what obi-juan azulay promises to be an "adventure in precarious construction."
to make sense of it all is the challenge, but perhaps not the objective. in a sense, its more about exposure and always being on the edge of understanding your convictions and finding the pleasure in challenging those convictions and embracing the uncertainty of what is to come...all within the always evolving process of becoming.
i know, it's a mind fuck, but fortunately there is my 'UNpack' seminar which some fellow students have likened to group therapy, but i am finding the objective to be less fluffy and much more subversive. objectively, it's a graphic design exercise in narrative mapping, leading to the 'unpacking' of your personal design influences.
exercise 1:
3 posters, narrative mapping