anchor
quarter life crisis
"Why take the risk?

Maybe it's for the moment when the impossible is conquered and there's the satisfied joy that connects the present with someone long forgotten...a familiar face. Meet your inner child. He's a great kid, but not exactly the person your boss hired." - Dana Brown from Step Into Liquid

Those of us who have taken the leap probably understands that all the things that are worthwhile in life never come without risk. Whether it is catching a wave, falling in love, starting a business, or quitting your job to pay attention to your creative side, these life-changing decisions always require a bit of ignorance and the wisdom of being a child to set them in motion. I find this quote particularly relevant since I am now "unemployed" and sometimes find myself giving into the impulses of my suppressed inner child. For example, today I was breezing through craigslist and found this puppy for only 50 bucks...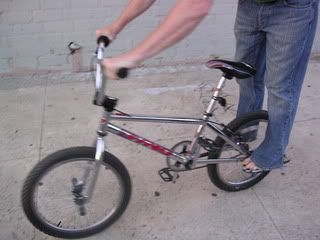 classmate taking the bike for a spin

When I was 11, this was the bike of my dreams...and for only 50 bucks!, I couldn't resist. Plus I could justify this purchase with the rationale that a bike would save me 15 minutes of time spent walking daily, which translates directly to added sleep time which is a more valuable commodity than gold these days.

Gripping the handlebars, as if charged with electricity, sent a surge of excitement up my spine...my inner 11-year old was resurrected. It's funny how we can go so long overlooking a simple a pleasure as riding a bicycle on a sunny day. As I rode, I began to recall the fond memories of racing my Haro Master on the tracks at Delco Park, or cruising with my "˜bike gang' homies through the old neighborhood to see what kind of trouble we could get into. For those of you not in the know, chrome GT bikes are the BMWs of BMX bikes, pegs on each wheel were useful for giving a bike-less friend or two a lift to the swimming pool, and stealing the "˜chromie' tire caps off cars to put on your bike tires meant that you had status.

Anyway, I rolled through the hallways of SCI-Arc with my new bike thinking I was hot shit (bikes, skateboards, and scooters are the preferred mode of transportation through the building since it is over half a mile long). When I rolled into lab with my fresh wheels, I was met with some teasing and heckling from my peers (didn't stop them from taking my bike for a spin). "What is this like a mid-life crisis?" one of the guys quipped. "Yeah, I guess you could say that." I said, "but it's more like a quarter-life crisis."...some chuckles.

So if you had told me years ago that I would be 26 years old, unemployed, and riding a bmx bike through the halls of SCI-Arc, I would probably think you were crazy, but now I see that always having the element of the unexpected is what makes life interesting. To me, this is what this bicycle and SCI-Arc stmbolizes: an exploration into the unknown, a continuous movement from the norm, a break from the routine, and the understanding that the rejection of established knowledge is the prelude to discovering the truth...it's less about the physical spaces we occupy, and more about the passing mindscapes that each students attempts to capture and occupy.

...that's why I take the risk.