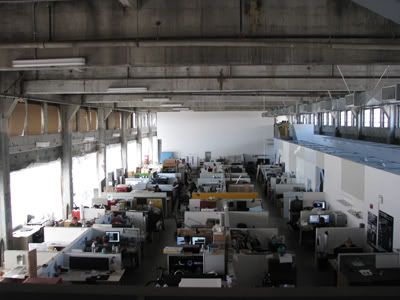 as some of you may know, i am in my graduate thesis semester and this week marks the beginning of the final stretch for our final presentations which will take place in a little over a month. i'm a little freaked-out, but i figure i would offer up a discussion that may help divert some of the anxiety...or maybe i'm just procrastinating.
the discussion relates to some issues brought up by sylvia lavin, professor and former chair at UCLA, during her recent visit and talk with thesis students here at SCI-Arc. i would describe the talk as being either very poignant commentary on the current state of architecture and architecture education OR the most demoralizing pep-talk i've ever been a part of. either way, i thought the issues that were brought up warrant discussion here.
her main argument was (and i'm paraphrasing) that within the current state of the profession today, given its highly collaborative an non-authoritative nature, there is no longer any relevance for
personal
theses. she likened the thesis student to an american tourist who expects everyone to speak english wherever they go, which may have been acceptable in the recent past, but today people need to "speak the fucking language", meaning the more and more that a student delves into the highly-nuanced, bottomless abyss that is thesis, the more and more they lose their ability to communicate with the outside world and the profession at large, thus losing their relevance in discourse overall.
her secondary critique related to matters of method, or in other words, too often she has seen that during thesis presentations, the comment "it's a good project, but there is not really a thesis." comes up, leaving both the student and the jury in a state of confusion and frustration. i am not exactly sure what she meant by this comment. does it mean students today lack the skills and discipline needed to formulate a poignant argument, or is the world no longer interested in what these arguments have to say?
before i get into my response, i should point out that SCI-Arc is one of the few remaining graduate schools (Princeton and Harvard are the only other two i know of) that still require a final thesis semester. most schools either offer it as an option or have phased it out all together. it should also be noted that sylvia was responsible for ending thesis at UCLA during her time as chair, and even our own thesis coordinator, hernan, is a proponent of ending thesis as well (which is why he was given the position of thesis coordinator).
my conclusion is that although much of what sylvia says is proving to be true...
1. thesis is an inescapable blackhole that consumes your life and everything around it...check
2. thesis causes a disconnect and inhibits our ability to communicate with the world around us (just watch me in social settings with non-architects)...check
3. formulating a thesis that is relevant in this day in age is an extremely daunting, and perhaps impossible task...check
...i still believe that it is something that every architecture student should experience, and this is not because i am a sadist, but because i think it is an important aspect of our profession, that is, the highly personal and nuanced expression of what you, the architect, feel is important in the world, and although this view may not ever be correct, i still feel that act of expression is what drives a designer.
i can give an example in the real world based off my own experience where i found myself in a design meeting at an office where although it would be considered a collaborative process, the vibe of the meeting was highly contentious, and it was often the most outspoken and passionate people (with the work to back it up) who had their ideas pushed through in the project. it's not to say it was because these people were geniuses, but because they had the strength, rigor, and balls to communicate their personal ideas in the best way possible, no matter how absurd.
i think this also belongs in the broader discussion that orhan had with peter cook, where mr. cook highlighted the fact that it is the individual and sometimes strange student that the education system should cater to, and not the student that merely copies the instructor's interest, no matter how skilled they are at it, because this just perpetuates a system in which architecture becomes highly predictable and often disposable.
that said, i think thesis should continue on...