anchor
texas star
our studio critics have offered an interesting approach to site documentation and analysis. we were asked to film our site, utilizing cinematography as a framework for the architectural project we will inflict there.

this is building in a cinematic context. the architecture becomes a character, or a prop, or a transition, in the filmic sense.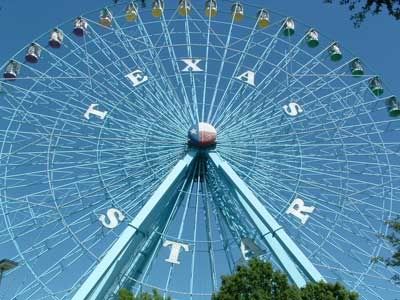 i ventured over to fair park in dallas, the home of the texas state fair and the 'texas star' ferris wheel. everything is bigger and uglier in texas.

i plan to use this large contraption as a pivot where an interchange will occur between a physical and virtual presence. since the whole semester i've been investigating robotics and the implications of such technologies, it only make sense that the architecture must support interactions with the human body. again the concept of the 'meme' (see earlier posts) will elicit the transfer of both quantitative and qualitative data between man and machine.

what is the 'architecture' here? i see it as a pet architecture, that you can reprogram, or use for data storage, or as a recording device. an architecture that fits in your pocket (if not physically then along that same scale).

we go to the fair ground for an intensified experience. technology can accomplish somewhat of the same. how will the tech-savy container respond to these conditions?