anchor
unweaving the rainbow
apart from a bout of illness over the weekend, things have been operating smoothly. each of my courses is serving to inspire me in ways i never imagined.

currently i am undertaking film production as a conceptualization tool in the pulparchitecture studio. our encounters with the 'meme' have been taken further to include various types of cinematic representation. we have been split up into four groups of three. our treatment of the camera differs in each group. one is dealing with a video projection installation, another focuses on time-lapse and reality television, the third is a kind of performance involving drastic scenarios. my group, as i mentioned before, conducted robotic surveillance to reveal the 'second life' of the architecture building. if all of this sounds incredibly vague, it's because it is slowly being revealed to us over the course of the semester. in essence you'll be learning about it right along with me.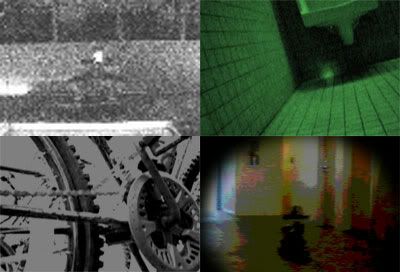 theory seminar is up and rolling at an alarming pace. i find myself frantically jotting down ideas every session. it's not that i have to take notes, its just that i have to write down all of the little snippets of inspiration i receive as my brain is constantly being triggered. it has been very interesting to hear the viewpoints of not only the instructor, but my fellow classmates as well. we have such a diversity of backgrounds in the school and these assemblages of knowledge and experience have gone underutilized until now. we have started a collective seminar blog which includes the samples of writing everyone has been asked to submit so far.

the web mapping for digital protocols turned out better than i expected. there were a wide number of approaches to it in the class. my flash skills are still lacking at this point, so my animations were of a rudementary nature. i also found a program, a web crawler, that could explore sites starting with a specified url and then take every possible path from that site. the resulting diagrams were quite beautiful.

i must return to studio work. the days seem to run shorter and shorter.