anchor
On The Non-Pejorative Use of "Spectacle"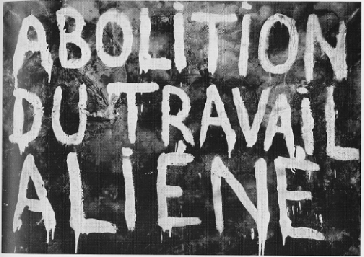 Anyone else notice how easily people are able to invoke both Guy Debord and the term
spectacle
? Doesn't seem wrong that people do so without batting an eyelash, as if the term "spectacle" was something positive, or something to be admired or utilized? This, from RETORT's (Iain Boal, T.J. Clark, Joseph Matthews, and Michael Watts)
Afflicted Powers: Capital and Spectacle in a New Age of War
(Verso 2005):
We take it we are not alone in shuddering at the way "spectacle" has taken its place in approved postmodern discourse over the past fifteen years -- as a vaguely millenarian accompaniment to "new media studies" or to wishful thinking about freedom in cyberspace, with never a whisper that its orignial objects were the Watts Riots and the Proletarian Cultural Revolution
(17)
Ever notice that the most widely-read version of Debord's
Society of The Spectacle
comes courtesy of Bruce Mau's Zone imprint? Any one else find this troubling or (at least) ironic? Why are people so williing to eviscerate the
derivé
from the Situationist project, as if this vaguely urbanist notion had nothing to do with the group's Marxist program?
Just thinking out loud.