anchor
Le Grand Pari[s]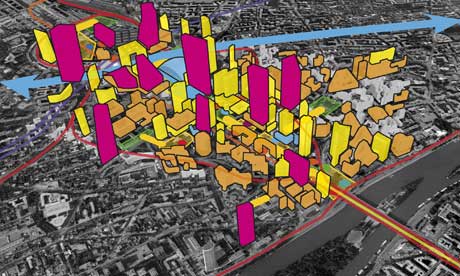 Since our studio subject is taking place in Massy in the banlieue, it's pretty much necessary that we take into account a project that is in the works currently here in Paris,
Le Grand Pari[s]
. This is a project proposed by the ever-unpopular Nicolas Sarkozy, the French president, two years ago that involves many things, but most importantly the propositions of ten architecture firms for a model of Greater Paris to unite Paris (~2 million inhabitants) with it's huge suburban area (~10 million inhabitants). The representatives/firms are:
Richard Rogers, Rogers Stirk Harbour & Partners
Yves Lion, Groupe Descartes
Djamel Klouche, AUC
Christian de Pontzamparc, Atelier Christian de Pontzamparc
Antoine Grumbach, Grumbach et associé
Jean Nouvel, Atelier Jean Nouvel
Bernardo Secchi/Paola Vigano, Studio 09
Finn Geipel, LIN
Roland Castro, Ateliers Castro/Denissof/Casi
Winy Maas, MVRDV
This past Tuesday a public conference was held at the Cité de l'architecture et patrimoine in Paris with all the participating architects and many other big shots of the biz for what ended up mostly to be a public debate of the visions of each team. It was much more of a discussion and far less of a presentation of the propositions, they mostly just flashed quickly on the screen in the background, so I really couldn't get a good look at any of them. However it was definitely cool to see so many people together all interested in public architecture. There was a line of hundreds of people to get into the place, many couldn't get in at all. The nice thing also was that it wasn't just the Nouvel's, Fuksas's and Maas's telling us how it should be but many of the people in the audience who represented very important arms of the government or corporations or whatever had a lot of very healthy questions and criticisms for them. However, in the end I am really waiting with little patience to see the propositions, I think they may be on the internet or at the Cité Chaillot in Paris, quite soon. I hope anyway.