In an attempt to document my thesis project over the course of the next seven months, I'll be posting my progress. First up is my thoughts on site in relation to infrastructural networks. The images are snippets from a series of maps that are used as locative visual media for the work.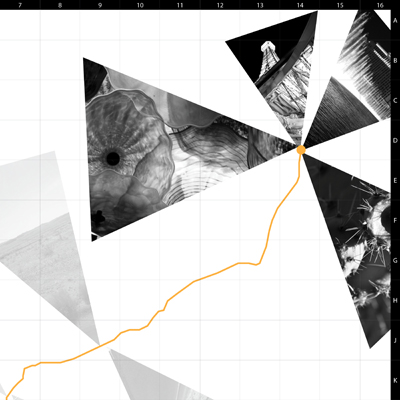 known knowns
The site is elastic—has variable speed, users, and/or paths.
The site is conventionally defined by its endpoints.
The site is intertwined with multiple infrastructural networks.
territory las vegas, nevada to los angeles, california.
by car: 265 miles. 4 hours 23 minutes. (up to 6 hours 10 minutes in traffic)
This particular car trip is devoid of a continuous urban fabric to pass by; rather the view is of the relentlessly monotonous ground of the Mojave Desert—devoid of distinguishable geological, natural, and even cultural landmarks. A continuous nowhere, the road becomes the only object in the landscape. As such, the trip becomes the event. The anticipation of reaching the destination is the propelling force pushes you to get there faster, quicker, sooner.
While most car trips involve a series of directions at major landmarks, (highway interchanges, large cities, monuments, etc) this trip involves 223 solid miles of I-15. This trip is entirely the empty space between landmarks—there are no intermediary nodes. This makes the line a singular connection between the two nodes. The line is not about experience, it is a means to an end.
In Las Vegas and Los Angeles, spectacle and destination are collapsed into a single entity. Whether traveling in one direction or the other, both endpoints are cities of brightness. The initial burst of light cannot be sustained because it is generated by the contrast from the desert.
Speed on this jaunt is determined by posted highway speeds, the smoothness of the road, and the lack of traffic. All of these factors are related to the road itself, not the landscape. The speed of the road is independent from the speed of the landscape.
known unknowns
Not defined by state regulations or vehicle speed capacities, the speed of the landscape is possibly drastically slower than 70 miles per hour. While highway speed is only reduced when conditions are potentially dangerous, what would the speed of this trip be if it was defined by the landscape? Would the speed be increased to that of a high-speed train? Or would it be reduced to that of a desert tortoise?
What agreements do you enter into when joining a network? Not just posted rules on signage, what spatial, social, and cultural normative systems do you conform to?
Rather than a connecting path, what if the car trip for Las Vegas to Los Angeles was defined as a corridor of space that correlates to a specific time? Without incident, your individual car is occupying a specific zone of space for the duration of the expedition.