Join us for our Mobile Makers Boston pop-up events on: 
Maya Bird-Murphy, M.Arch'17, wasn't happy with the demographics of design. According to NCARB's By the Numbers report, 83% of newly licensed architects were white, and 65% were male. She set out to change that by founding the nonprofit Mobile Makers.
Mobile Makers brings design directly to neighborhoods around Chicago. The Mobile Makerspace is an old delivery van, cleverly transformed into a well-equipped, contemporary mobile design studio that opens its doors to children around the city. Mobile Makers offers community pop-ups and partners with schools, museums, and local nonprofits for presentations and workshops. The first permanent Mobile Makers hub recently opened at Chicago's Kimball Arts Center.
Maya has seen Mobile Makers make a difference already. In 2020-21 they engaged more than 320 youth in design-thinking and problem-solving workshops. "Our programs show young people all their options when it comes to design," Maya says. "Our hope is to mentor and support kids who decide to pursue design-related careers."
A Mobile Makers truck will be seen on the streets of Boston this spring, with The Boston Architectural College (BAC) serving as the on-the-ground implementation partner, and with BAC staff and students supporting this impactful programming. The goal is to help kids understand how design shapes their lives, and ultimately to nurture a more socially, economically, and racially diverse generation of architects, landscape architects, and designers.
Karen Nelson, BAC Dean of Architecture, believes the College is the ideal Mobile Makers partner since it's already an integral part of Boston. "BAC students are engaged in local design practice — they're changing the city through their work every day," she says. "And faculty, staff, and board members have robust networks in place, that we can build on to support the Mobile Makers Boston launch."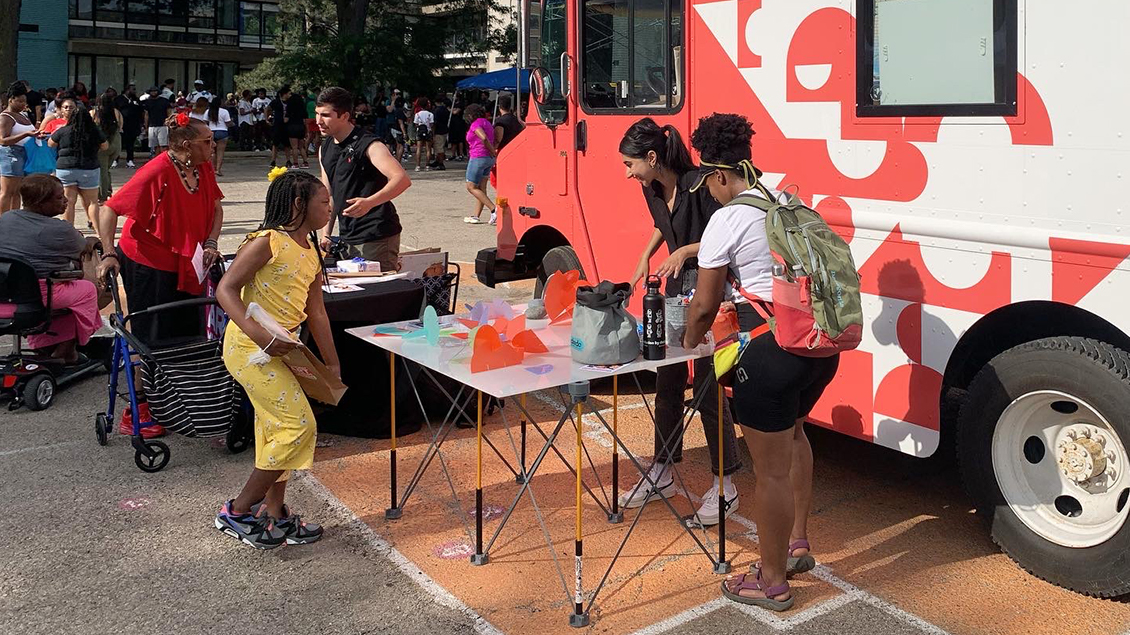 Volunteers speak with participants at a Mobile Makers event
Mobile Makers' expansion to Boston is being made possible by a generous multi-year gift to the BAC from donors Joan Shafran and Rob Haimes. They're both very excited about the truck. "Our hope is it becomes a visible presence in the city – one that inspires Boston youth," says Joan.
As longtime donors to the BAC, Joan and Rob are impressed by the College's engagement with Boston. They were early supporters of the BAC's Gateway Initiative, which sees students providing design-related services to local nonprofits, community organizations, and municipalities on a pro bono basis.
"The BAC teaches an inclusive design process, and always looks for ways to engage parts of the city that may be unfamiliar with design," says Rob. "Supporting a BAC-Mobile Makers collaboration made sense to us. We believe it'll help kids understand the role design plays in how well communities work."
Rob and Joan are passionate supporters of a variety of design-based organizations. Ten years ago, Joan joined The Cultural Landscape Foundation board. With a growing commitment to the often-downplayed field of landscape architecture, she and Rob made the lead gift to endow the Cornelia Hahn Oberlander International Landscape Architecture Prize, intended to become the Pritzker Prize equivalent for landscape architecture. The first laureate, Julie Bargmann, selected in October 2021, has an inspiring, activist practice, transforming sometimes abandoned or toxic sites into beautiful, inviting spaces.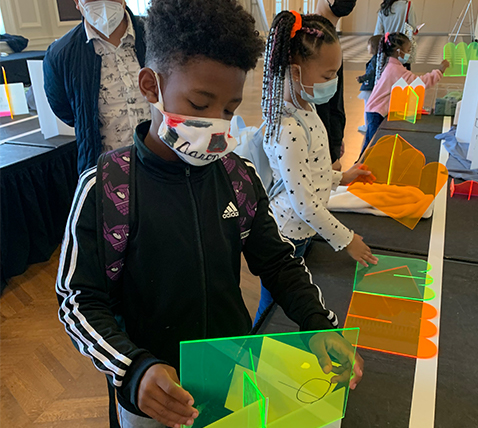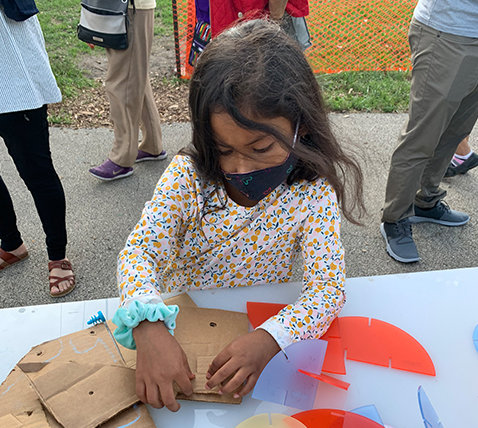 Joan and Rob met in 1980 at the Visible Language Workshop (VLW) in Cambridge, one of the groups that later became the MIT Media Lab. Joan, one of the program's first graduate students, and Rob, a staff member, taught together and eventually married. "The VLW was about exploring how technology would be integrated into design and publishing, and how messages get altered using different means of communication," says Rob.
When they learned about Maya and Mobile Makers, Joan and Rob recognized the connections between the VLW's work in media literacy and Mobile Makers' impact on design literacy. They feel this kind of critical thinking is especially important today and appreciated how Maya, with her hands-on approach, was taking it out into the world. And Maya couldn't agree more. "When I was working on Mobile Makers as my thesis at the BAC, I envisioned that the work would mostly stay in the classroom. The pandemic made us rethink everything and now we're making actual, physical change in communities."
Maya shared that she recently worked with students who designed a large sculpture that transformed an empty lot in their neighborhood. It was a rewarding experience for the students and her Mobile Makers colleagues. "When students become engaged in their communities, they are better equipped to identify issues and propose positive change," Maya says. "The greatest thing I see during workshops is when students realize they have agency and have the power to voice their concerns."
Rob and Joan are confident that Mobile Makers will empower Boston-area young people as well, and as Joan says, "It will open their eyes to how design is present in your life wherever you live."