In architectural media, what it used to be "there is no such thing as bad publicity" in the prime print years, has turned into "puffery is the only publicity" in the age of social media and infinite promotion. There might be some flickers of hope here and there for intelligent criticism, but media in general might as well be one big love fest for the positive thinking which is explained in Herbert Marcuse's One Dimensional Man. The quantity is the key word here and it is counted by thumb up style likes..
It is important and entertaining to peek at the workings of this mechanism that spins.
The context of architectural firms hiring media experts, facebook and twitter representatives for their commanding presence in the world, is a good place to understand some of this new media popularity structure.
Sometimes called a "social media coordinator" or "marketing director," these people are now an essential part of any organization whose mind is set on nothing less than a top place in their field.
It is not like the old days when an editor of the design magazine called and said, "Mr. Superstar, whom you used to intern for free, suggested I contact you and publish that interesting looking home you designed for your parents on the cover of upcoming issue, I think you are handsome and talented and our readers love the cutting edge houses build on an exclusive lakefront properties."
Nowadays it is much different and the structure of being in the public eye pretty much is self serviced and achieved through the media expert, err.., the full time social media responder and a forum member to whom you pay salary.
Let's say your latest architectural design with an "edgy" camera angle showing that trendy detail is sent to one of the architecture's daily websites and from there it has bounced like a ping pong ball in the internet and simultaneously re-posted by your followers, spreading like a quick fire via facebook, twitter and in the "design writer" circles of endless blogs.
All good so far, a minor star is born. You are now a familiar name and it is up to you how to stretch that and spin it until you have something else to pitch.
However, here is something you did not expect.
Sometimes called a "social media coordinator" or "marketing director", these people are now an essential part of any organization whose mind is set on nothing less than a top place in their field.
A jackass, an internet troll, a homegrown expert on design, an opinionated troublemaker or simply someone having a bad day at work and who despises you no matter what.., comments on your masterpiece, fruit of your irresistible talent, ticket to all things fame enables.
The loathsome post says, "this sucks! what a terrible design, a waste, go back to school, simply awful.. I wish this forum had a dislike button."
What will you do?
You'll place a job ad in craigslist.
North America based internationally recognized boutique architecture firm with projects in China and New York's vibrant Chelsea neighborhood is looking for an intrepid social media expert to coordinate firm's web presence and profile. The candidate should possess a keen sense of rapid response to aggressive commentary and public opinion about our projects by irresponsible people who are the enemy of design, capitalism, democracy, freedom and America, Belgium, Denmark, etc...
Applicants will be selected based on the marketing background, possession and conduct of certain vocabulary to counter negativity decisively and willingness to work around the clock.
Salary is based on effectiveness.
This is the age of frolicking in media success. But there are enemies.
You need to defend yourself as you are attacked in real time. Architecture needs to be defended, architecture needs to be famous, architecture must make a successful and profitable impression.
How to defend against negative commentary?
"Easy," according to Jet Troll, a long time internet hacker, who, in the past, successfully made thousands of people throw their laptops out the upper floor windows in United States alone.
Jet Troll says, "you need to go to the core of the mindset, the mood, and the level of aesthetic register and knowledge."
"You need to respond with defamation and ad hominem. Don't be a hohoho Santa Claus. Preemptive attack is a good defense also," Troll adds.
When I ask to list some of the preemptive defamatory words, Jet's first one is, "-haters hate- is a good one because it immediately puts the offenders in a category as the hate monger types and there is no sympathy in that neighborhood. Always end your negativity busting posts with "cheer up!" or something that illustrates the dark space you put this person in."
Troll continues, "another good one is old age and nostalgia. You pair the hater with old age and po-mo leanings. It really works in an age when everybody is trying to be hip to technology and world of words with flash memory. It hurts people real bad and places them in the out of touch category. After all, who would listen someone with a wrinkled face and pony tail wearing a casual Friday clothing? You get my point?"
Without asking, Jet Troll continues with his trade secrets, "I personally like the fact check references and quote articles which are so easy to find via google.com because as you know, there is some supporter of every idea goes through your mind. Another one is to post a youtube video declaring the opponent stupid in moral grounds."
More Troll talks, more I understand how easy to say STFU and defend your client who just finished that topsy turvy copycat office building with drywall interiors in China.
It is also important to know that basically architectural design world is driven by no more than few dozen of well placed architects who usually graduated from a well known school or worked for handful of celebrity architects. The profession, particularly schools, are filled with students who are the big fans of them, idolizing every building they design and how they look like. Sort of like cult following. These are the people usually leave messages on architectural boards saying (all commentary below is collected "as is" from popular sites by the author and separated by dash marks,)
"I am in loove with it!! - Fantastic! - i never liked a symmetry before but in this one i love itttt !!! - i feel like a cut paper, awesome!! - awesome ... many glass in the wall - It's spectacular!!! - woowww.. amazing - The pencil leaves the rest to the imagination... fantastic Mr. Holle!"
Then some dickhead comes and says "what a waste!" "Crap." Or, "Steven Holl sucks!"
This is the daily bread of the hate control specialist and that person must be told and told forcefully STFU.
A perfect time to say "haters hate or why so much hate" without the question mark because as a social media expert, you are not asking a question but placing the comment in the dark side of the haters' space. You also need to appear not as professional but as a devoted and positive fan, a lover of architecture and design. Ready to defend, insult, defame and earn the money they are paying you every month to protect their reputation, spin their game and periodically wax their brand.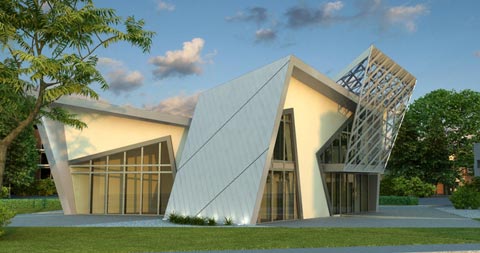 There is a great financial advancement for the firm if you can have herds of poor people living in poverty to speak up for it, support and idolize the recent project they designed on that lakeshore with few acres of trees around it where the architecture centers around a living room that it is hard to distinguish between indoor or outdoor because of the walls of triple layer glass in that northern ice weather. You know.., the media shots.., to keep people's aspirations alive. The new American virtual dream, lifestyle and consumerism.
All this boxing match among the design plebs for the property of prominent art collectors where they spend their weekends away from the city and regroup their enterprising thoughts, or, appreciate their new acquisition of a painting, or, just spend few days relaxing before they go back to the city to make more money in few days than most architects make in a year.