Happy New Year!
2010 was a very busy year for us at Archinect HQ. While it may not be apparent to our readers, as our activity on the site has been relatively slow in the last many months, we've been very busy behind the curtain working on the entirely new Archinect v3.0. So, in the interest of efficiency, we've decided to summarize the year with a purely analytical retrospective of the most popular posts from a variety of channels across Archinect, Bustler and SpaceInvading, per our server statistics. We've also decided to provide a subtle preview to what's to come in 2011 for Archinect.
 
Jump directly to:

May 2011 be amazing to all of our dear readers, and much better to the architecture industry in general! Our sincerest thanks to all of you who read, participate and contribute to Archinect - our success is due to your involvement!

Here's to 2011, Archinect's 14th year!



MOST REQUESTED FEATURES
1.ShowCase: Vakko Fashion Center & Power Media Center
A featured project by REX, part of our ongoing ShowCase series, took the position of most viewed feature in 2010.

2. Composing the Personal Narrative, Archinect's Official Portfolio Guide, Part II: The Search for Employment
While not actually published in 2010, this feature remained extremely popular as 2010 continued to be brutal to architectural job-seekers.

3.How to Do a Thesis: Practice Models as Instigators for Academic Theses
A feature targeted to students, by Sergio López-Piñeiro, was a summary of his presentation at the 2010 Association of Collegiate Schools of Architecture (ACSA) Annual Meeting in New Orleans, March 2010.

4.Student Works: a roof is a roof is a roof
a roof is a roof is a roof is the final Graduate School semester project by Janis Rucins as part of the UIC research studio Roadside Attractions led by professor Alex Lehnerer. The work won the Best in Show Award at the University of Illinois School of Architecture 2009/2010 Year End Show.

5.ShowCase: Maison NW
It's a very fun project, but a little bit of a surprise that Maison NW remains one of the most popular projects we've featured almost 2 years after we originally published it.

6.The Architecture Job Application, Hints & Suggestions from Employers
Another oldy-but-goody among the huge pool of unemployed architects during the harsh recession that has dominated 2010.

7.Composing the Personal Narrative, Archinect's Official Portfolio Guide, Part I: The Academic Portfolio
Hey, if you can't find a job, go back to school, right? This feature has helped polish up that portfolio for grad school applications.

8.UpStarts: LAN Architecture
Our contributor Katya Tylevich penned the most popular UpStarts feature of 2010 with her interview with Paris-based LAN Architecture. It's doesn't hurt that LAN's work is beautiful.

9.Archinect Summer '10 Travel Blogs
Archinect conscripted a few Yale School of Architecture students (class of 2011), awardees of various travel fellowships (George Nelson Scholarship, David M. Schwarz and Takenaka Fellowships), to blog about their experiences. Their reportage was quite popular among our readers.

10.Shifting Paradigms: Design in Transition 2010
Versa Design, LeroLero Productions and Archinect presented the premiere event, Shifting Paradigms: Design in Transition at the Center for Architecture in New York on June 22, 2010. The event was streamed Live on Archinect and attracted a packed house.


MOST REQUESTED NEWS ARTICLES

1.$ Billion Home is Complete in Mumbai
A billion dollar home for a single family in Mumbai... 27 floors, 37,000 sqm, helicopter pads, 160-car garage, 600 staff... are you surprised that this was the most popular story of 2010?

2.RIP Tobias Wong
2010 marked the death of the über-talented Tobias Wong. Our readers flocked to the news of his untimely passing.

3.The Leaning Tower of Abu Dhabi
Learning from Pisa... leaning towers are a hit!

4.Sean John rips off Pentagram's poster for Yale School of Architecture
Who said hip hop doesn't take inspiration from ivy league architecture departments?

5.Burj Khalifa closed indefinitely
News of the public closing of the Burj Khalifa was very popular on Archinect in 2010. Was it ever really closed?

6.SANAA wins 2010 Pritzker Prize
Archinect readers applauded the Pritzker decision in 2010 of designer duo SANAA... a favorite among many of our readers.

7.Fall 2010 Architecture School Lecture Posters!
News of our Lecture Poster gallery, the third year we've done this, made the list of most popular news items in 2010.

8.Office dA. D'oh!
The unfortunate news of the split of husband and wife duo Office dA was a popular story recently, and lead to a personal response from partner Monica Ponce de Leon.

9.Terrorist Motel to Replace Ground Zero Mosque?
A rendering including a sexy tranvestite bearded Muslim is sure to attact a lot of attention. Journalism at its best!


10.The Great, Great, Great, Great Grandchildren of Jules Verne
Eric Chavkin's review of Neil Denari's exhibition at Ace Gallery rounds out our most popular News articles of 2010.


MOST REQUESTED DISCUSSIONS
This year the economy, job market, and grad school applications seemed to dominate the discussion forum.

MOST REQUESTED JOB LISTINGS
The following jobs were the most visited job ads in 2010. Please do not contact these firms about these job positions. If you're looking for work please only contact those firms with active job listings here .
Intermediate Architect, Valerio Architects Inc.
Architect/Designer, Office for Metropolitan Architecture
Architectural Designer, PURE Architecture
Architect, Steven Holl Architects
Architect - New York, The Office for Metropolitan Architecture (OMA)
Architect Intern, Robinson + Grisaru Architecture PC
Architectural Designer/Draftsperson, Kovac Architects
Designer/Project Manager, Cliff Garten Studio
Architecture Internship, Dror
Design Intern, RUX

MOST REQUESTED SCHOOL BLOGS
The Archinect School Blog project continues to be the most interesting online insight into the world of architectural academia. The following students provided especially popular coverage in 2010.

1.Harvard GSD (Lian)


2.UC Berkeley (Nick)



3.Cooper Union (Danny)

4.Harvard University - GSD (Quilian)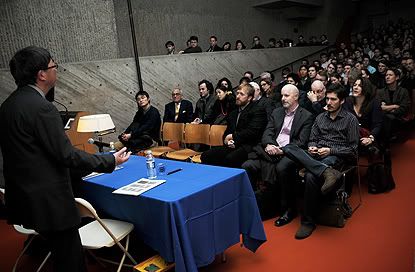 5.Yale School of Architecture (Susan)

6.Cooper Union (Mark)

7.UBC (Mike)

8.Columbia University GSAPP (Anthony)

9.Architectural Association (Faysal)

10.Cornell University (Ryan)


MOST REQUESTED BUSTLER ARTICLES
Bustler , our sister site, had a healthy dose of traffic this year, as it continues to provide the community with an exhaustive resource for competitions, events, and competition results/news. The following are the most popular news articles from 2010.




1.Choi+Shine wins BSA Unbuilt Architecture Award for Land of Giants




2.16 Finalists Announced for Dance and Music Center in The Hague




3.Solar City Tower for Rio Olympics 2016




4.Design Act's Finalist Proposal for Singapore World Expo Pavilion




5.Studio Gang Wins Second Prize at Taipei Pop Music Center Competition




6.OMA wins competition for new library in Caen, France




7.First Prize at Taipei Pop Music Center Competition: Reiser + Umemoto




8.OMA wins competition for the expansion to the Musée national des beaux-arts du Québec




9.eVolo Announces Winners of 2010 Skyscraper Competition




10.V&A at Dundee Unveils Six Shortlisted Designs


MOST REQUESTED SPACEINVADING PROJECTS
Another of our sister sites, SpaceInvading , is a hobby site we run for the sole purpose of sharing great work we come across during our daily scouring of the web. The projects that stood out with our readers in 2010 were...

1.Russian Flying Fortresses

2.British Panton Chair Competition

3.The Continuous Monument, An Architectural Model For Total Urbanisation

4.S.O.S. - Sofa Of Solitude

5.Remnants of the Biosphere

6.Pavilion Construction for Shanghai Expo 2010

7.Buildings (street art)

8.City-Settlements

9.Packing Tape Installation

10.Pionen – White mountain
 
MOST REQUESTED COMPETITIONS
From Bustler, the following were the most requested competitions listed on Bustler in 2010.



MOST REQUESTED EVENTS
From Bustler, the following were the most requested events listed in the Bustler calendar in 2010.



TOP 10 THINGS TO LOOK FORWARD TO IN ARCHINECT V3.0
And finally, we look to the future... the near future, we're happy to say. We're getting very close to launching the beta version of our new website. While the details won't be fully released until the site launches, we've decided to give our dear readers a sneak peak into what's to come in 2011.


Individual profiles, resumés and portfolios, with direct connection to job applications
Firm profiles, work portfolios and press-release tools
School profiles, with academic social networking and school blog connections
Blog network (new school blogs + lots more!)
Work status updates (text and image), with optional community comments/feedback
Vastly improved job board for job seekers, with saved-search features and customized email alerts
Vastly improved job board and recruitment tools for employers
Faster, more reliable infrastructure
Groups (like community-driven mini-Archinects!)
Expanded editorial, with more direct integration with Bustler and SpaceInvading