Director of Development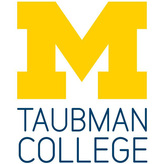 University of Michigan
Employer:
Ann Arbor, MI, US
Location:
Tue, Jul 11 '17
Posted on:
High academic rankings, a substantial endowment, and an impressive philanthropic track record make the Taubman College of Architecture and Urban Planning at the University of Michigan one of the most dynamic institutions in its field. Faculty and students achieve distinction in research, teaching, and learning across degree programs in architecture, urban design, and urban planning, with signature expertise in architectural robotics, community development, sustainable urban strategy, experimental design, and health design.

Join this world-class team as its Director of Development, leading efforts to support a compelling vision of promoting the public good by engaging a diverse constituency in learning and research that addresses the built environment. We seek an ambitious, motivated, and experienced director to work with the dean, academic administrators and senior staff in developing and implementing strategic, multi-level plans for achieving the college's fundraising goals.
Taubman College is a diverse, creative, and collaborative community within a major research institution. Its long history of educational excellence has given the college a deep and invested roster of alumni. Major gifts have given us a substantial endowment as well as a new building wing set to open in September. The college is on track to meet its target in the university's nearly-complete four billion dollar capital campaign. Strength in its core disciplines as well as interdisciplinary partnerships across and beyond the university have yielded funding from corporate and foundation sources.
Building on these strengths, the director will design, implement, and manage a comprehensive, proactive advancement plan focused on expanding and enhancing all external relationships with a particular focus on corporations and foundations. Additionally, the director will manage and solicit a portfolio of alumni and other annual giving contributors and collaborate with the university's Office of Development to solicit major gift prospects for endowment and expendable gifts that support our mission.
The director of development will report to the dean and work in close collaboration with the administrative director and associate deans. The position currently provides leadership and guidance to an annual fund coordinator and a major gifts officer with the potential to expand the development team over time given demonstrated success.
Responsibilities:
Work with the dean, associate deans, chairs of architecture and urban planning, faculty directors, and senior administrative staff to develop and implement an innovative, multi-year fundraising strategy in support of the college's vision. Create solicitation strategies for major and planned gifts as well as comprehensive annual giving plans for increasing philanthropic support for research, faculty support, student aid, and facilities. Oversee the development and implementation of timely and effective stewardship.
Spend approximately 60-80% of time on direct fundraising efforts by personally identifying, cultivating, stewarding, and soliciting an extensive portfolio of corporate and foundation prospects as well as major, principal, and planned giving prospects. Routinely conduct face-to-face visits with prospects and donors and participate in approximately 20-35 solicitations per year.
In collaboration with associate deans, faculty, and relevant university offices, identify corporations and foundations that suggest potential relationships based on common interests and routinely develop and submit highly competitive proposals for corporate and foundation grants.
Develop a comprehensive understanding of college priorities and make a persuasive verbal and written/visual case for supporting key programs and projects, effectively matching the interests of prospects to specific college development needs.
Lead, inspire, and coordinate the efforts of the college's development team.
Create effective mechanisms for internal communication, reporting and tracking of results.
Work collaboratively with other development personnel in identifying referral opportunities and supporting the overall university campaign goals. Participate in the university's Office of Development meetings and events as appropriate.
Qualifications:
At least seven years of experience leading academic fund raising at a college or university (or comparable arts or professional institution) with a comprehensive development program; campaign experience at a multi-faceted institution a plus.
Proven success in gift closure at the six- and seven-figure level.
Demonstrated ability in grant and proposal writing and record of success in generating significant commitments from corporations/foundations.
Knowledge of cultivation, solicitation, and stewardship strategies and techniques, particularly in the area of corporate and foundation fundraising.
Demonstrated leadership ability to develop strategic plans, implement programs, organize, initiate, and motivate.
Excellent organizational, interpersonal, written/oral communication, presentation, and networking skills with large groups as well as individuals. Ability to maintain a high level of poise and professionalism in all circumstances.
An appreciation for the unique role of architecture and urban planning in the context of a major public research university.
Bachelor's degree required, master's degree preferred.
Requests for consideration are due by August 9th, 2017.
Please submit application and resume materials here: http://careers.umich.edu/job_detail/144363/director_of_development
The University of Michigan is a nondiscriminatory, affirmative action employer.