anchor
LA Studio Trip - Days 3 + 4
Oct. 14&15

Day 3 - Greg Lynn, Disney Concert Hall, Cal-Tran, Moneo's Church, Morphosis, and Xefirotarch

Greg Lynn - On a strip mall type street in Venice Beach there is a door with 3" letters indicating the office of Greg Lynn. He was not there but someone else, name escapes me, gave us a tour. This was the first office we were in that we were actually allowed to look at everything and take photos. They had a laser cutter and 3D printing machine. The lady showed us some recent projects including Greg Lynn's house, which I am guessing is going to cost an arm and a leg. Let me just say the Venice Beach building department must be cool, I don't think you could ever get anything like that built on the east coast. One of the Chinese students asked the lady how they made any money, that was entertaining. The same student also asked "You do blobs and teeth, what else?" When I left, I had this feeling that I didn't really like anything in the office and then it occurred to me, Greg Lynn's house looked like something Hundertwasser would do or maybe even Gaudi, but somehow I felt is was more Hundertwasser than anything.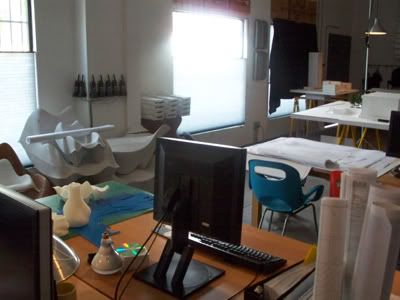 offices of Greg Lynn Form, rapid prototyping models in foreground

Disney Concert Hall - Unlike the Guggenheim, Gehry actually detailed the interiors a bit, but Gehry architects still have a long long way to go when it comes to interior detailing. I like the fact they used 4" wide x 4" high stone base everywhere. What made this building better than Guggenheim was that you could walk through, up, and around the twisting forms via stairs; and yes, it was really fucking shiny.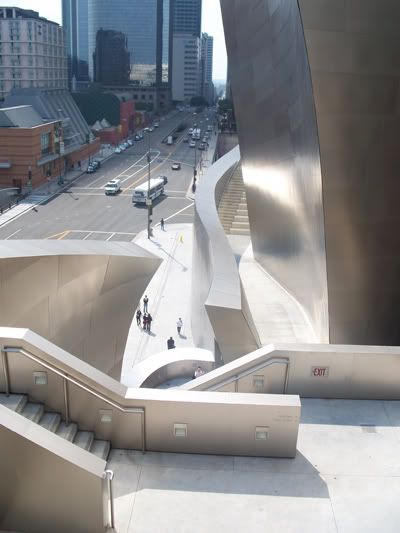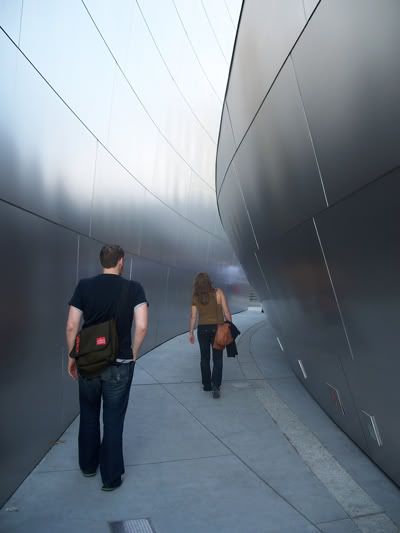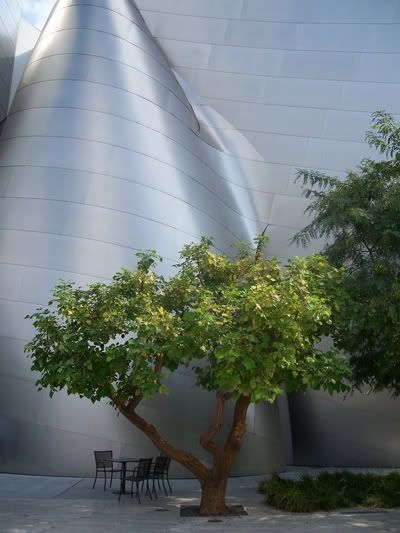 Cal-Tran - Did not go inside but the plaza was nice in front and the rough concrete details were nearly climbable. Someone was using the building to film a weird alien movie.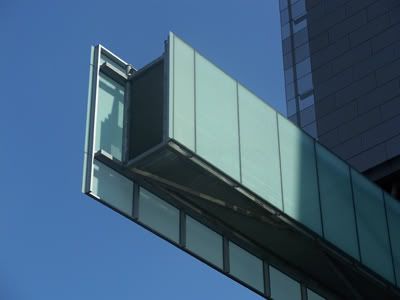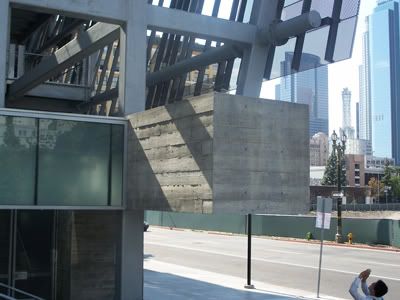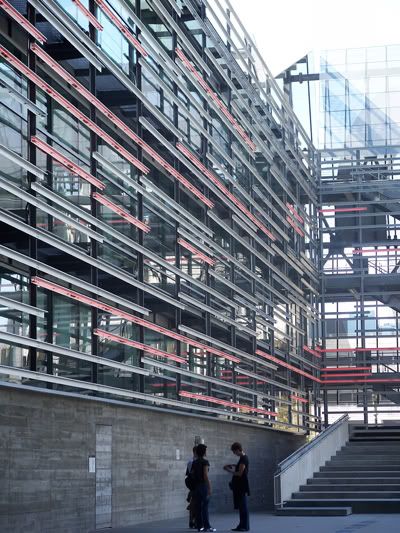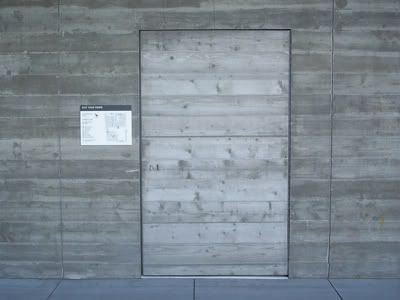 Moneo's Church - I have to say I am not used to seeing electrical outlets at the code 15" AFF height in a massive mausoleum.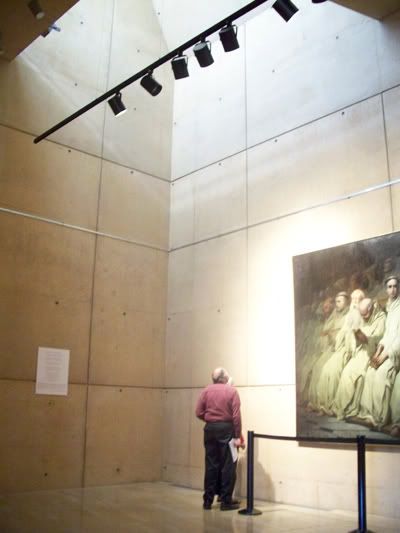 Morphosis - I think Thom Mayne is the first big time architect I have seen closer than at a lecture. Within in 1 minute of him talking to us, it was pretty clear he was brilliant and an approachable and a nice guy. Winka mentioned what we were doing and he quickly talked about his interests in cars and components and at a very detailed level that def. wasn't bullshit. An employee gave us a tour of the office which had windows and a skylight. The employee mentioned how no one really leaves, which says a lot, people aren't just working there to spruce up their resumes. Morphosis had two of those layering 3D printing machines in the back, gypsum and resin. She showed us models of Cooper Union and a really sweet China project. The day before at Gehry's office I asked about how liability had shifted with this new approach of having everyone work on one 3D models and the teaming up of the architect and the fabricator from the start, this same questioned was posed to Thom Mayne, and his answer was basically: we just do it, if you aren't having fun why do it. Like Greg Lynn's office Morphosis was located in a weird location, but maybe that's just LA, I'm used to the huge office buildings with receptions and security guards located in a prime location like Madison Avenue or something.

Xefirotarch - I have seen Hernan Diaz-Alonso stuff before and didn't really think much of it (but don't judge a book by its cover). In a small cigar smoke filled office in an area of LA that reminded me of the LES of NYC he began to show us animations and talk for roughly 2 hours (I stood the whole time).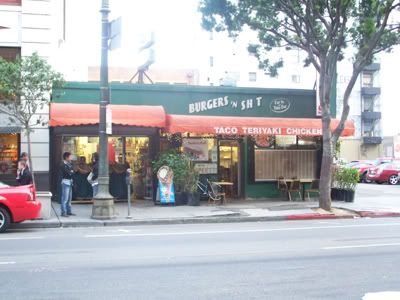 After he mentioned there were only two pens in the office and no models, and he had nothing on the walls, I started liking the guy. I was thinking, here is a guy who does crazy forms and may actually have the visual skills to be studying forms and not images, he is actually pretty damn good at Maya, another plus in my book. He quickly gave us his background (Argentina) and pointed out more than once he wanted to be a film maker and that he doesn't necessarily consider himself an architect all the time. There are many things he said about how his jobs came about that he would never mention in a lecture, so I assume I shouldn't mention them here. Either way, he didn't mask his luck and connections with a bullshit theoretical description of himself as a genius. Even the name of his firm was more a result of him being him and not some mind boggling intellectual conception. He showed us the PS-1 design and process, nutts.Archinect Interview He also teaches at Sci-Arc and Columbia, equally nutts. He as well talked about how Thom Mayne was a really great guy, so my first impression was confirmed. I do have to mention one thing he said, which I thought was hilarious, and made my fiancé a fan of his work right away...he was describing a model of his as a 70's porn furniture prop with semen ejaculated all over it, the imagery was quite accurate. In a way, if I had to sum up LA's cutting edge architecture (design), I'd say Hernan Diaz-Alonso is great example. He actually has worked with film people (Richard Bailey(?)) and he takes full advantage of the fabrication industry in LA.


My general feeling on architecture in LA reminded me of my favorite musician of all time: Jim Morrison. The Doors as most of you should know were a 60's rock band from LA. NYC did unofficially adopt Jim Morrison....and Jim did die in Paris, but LA is where he was from, and as he would say: the west is the best.




Day 4 - The Arts Center College of Design

Day 3 was long right, now you know why we didn't really go out. One of the guys at Audi who teaches at the Art Center in Pasadena gave us a tour of the instituted which was located in this very Mies van der Rohe like building. The renderings of the students were incredible. We had our desk crit in a studio there...I was fairly embarrassed showing my sketches and was at the point of wanting to burn my design anyway, but I guess it went alright. After that some people left to return to school and for the first time since arriving in LA we had free time. A classmate and I walked down to the beach, apparently we were near that street where there is this restaurant I'd been to 4 years ago which is located between two buildings outside and everyone sings "That's Amori" when the song comes on. We were that close and never went. Walked by I think the Steven Holl home on Venice Beach and then headed back to the hotel. As usual I worked on my paid work till 2am and then woke up a 5am to brush it up, since 9am NYC time is 6am LA, that's annoying.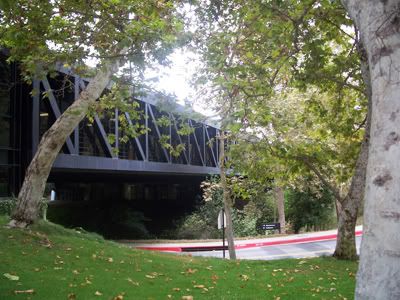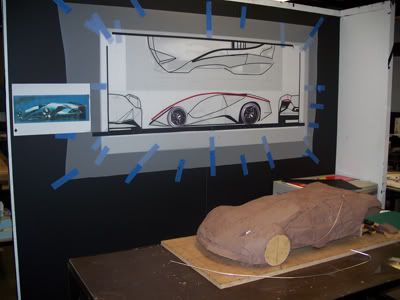 As cool as LA architecture is I would never move to the giant city of strip malls...