December 1, 2013 – Consulting For Architects, Inc. is pleased to announce the launching of 3 new Autodesk CAD evaluations available to the public this January. Our evaluations, under the CFA brand CFAeX, include Autodesk AutoCAD Architecture 2014 Professional, Autodesk Revit Architecture 2014 Professional, and BIM (Autodesk Revit) Professional.
"We are excited to offer the same skills assessment exams to the public that we use in our placement firm. Our candidate's skills are tested and certified using our proprietary exam as part of our rigorous screening process. Soon, architects and designers with internet access will have the same advantage as our elite clients." States firm owner David McFadden.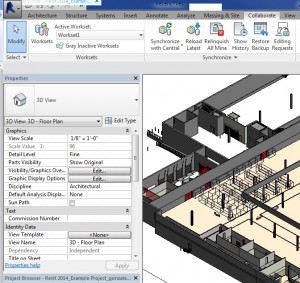 Sample Revit Screenshot from exam
About CFAeX: We certify our candidates' CAD skills. Our software assessment application, known as CFAeX Knowledge Assessment Tools©, is a cutting-edge, flexible and fully scalable skills assessment tool. Designed from the ground up by CFA to enhance our comprehensive candidate search and qualification procedures, this unique tool helps our recruiters evaluate today's top professionals. Comprehensive, advanced and user-friendly, CFAeX is ideally suited to gauging proficiency with CAD software as required in a real-world office situation. There is no limit to the type of questions that can be asked or the topics those questions can cover.
Bringing CAD Certification to the Next Level. The CFAeX CAD assessment brings skills evaluation to the next level, with outstanding capabilities for better understanding results, fine tuning questions, and accelerating candidates on a path toward success. It's easy to navigate with excellent interactivity, reporting, and drill-down functionality. CFAeX is also available directly to clients. Independently evaluate your staff and new employees with exams customized with office standards. Prices and description
About CFA:
Consulting for Architects, Inc. New York | Los Angeles, was founded 1984 with one goal in mind: To identify architects and firms with compatible design sensibilities and match them on a project or permanent basis. As a published designer with educational and professional background in the field, CFA founder and CEO David McFadden spearheads the firm's efforts to address the specific needs of customers. CFA is a true "market-maker," with thousands of successful project and permanent placements – all thanks to you, its esteemed clients, comprised of hundreds of independent professionals and firms on both sides of the hiring equation.
Contact:
David McFadden
(800) 723-8882