Volume 70 of the Journal of Architectural Education
In response to the August 2015 open call for papers, content for volume 70 of the JAE is split. Issue 70:1, edited by Amy Kulper, features Design as Scholarship and introduces a new design framework: Discursive Images. Issue 70:2, edited by AnnMarie Brennan and Saundra Weddle, includes Scholarship of Design. We received over 130 essays and, as a result of the number submitted, decided to spread the content over the entire volume year. The JAE is not able to publish more content, but we can publish more diverse content that represents the range of work happening in ACSA member schools. The evolution of the Design as Scholarship, the opening up of reviews to other types of architectural production, and the diversity of recent and future themes reflect our awareness that scholarship in architecture is varied.
Visit JAEOnline.org to access the articles.
View full entry
How Many MOOCs Are Teaching Architecture?
Much has been made of the rise of massive open online courses (MOOCs), which some see as being poised to take over higher education. So we wanted to know: how many MOOCs are teaching architecture-related topics?It turns out, not that many. In a recent search at mooc-list.com and elsewhere, we... View full entry
The Architecture Salary Poll, analyzed
Is it bad news to work for a small firm? How much more do architecture firm workers earn if they have a license? How big is the salary gap between men and women?ACSA recently visualized nearly 5,000 responses from Archinect's Architecture Salary Poll through a searchable and browsable... View full entry
The Architecture Salary Poll, visualized
For a few years, Archinect has been collecting anonymous salary, satisfaction, and other juicy job-related data through its Architecture Salary Poll. It's a great resource--a Glassdoor for the architecture world--and Archinect has shared this dataset with ACSA in order for us to conduct some... View full entry
ACSA's Community Design Directory includes details on over 200 organizations
Fourteen years ago, The ACSA Sourcebook of Community Design Programs at Schools of Architecture in North America included just over seventy organizations. Since then, the landscape has changed. Today, we're releasing a new directory, which includes over two hundred organizations, covering... View full entry
This Year ACSA is Hosting Its Architecture College & Career Expo Virtually
At this year's ACSA Architecture College & Career Expo, students and their families will be able to do all of the things they would expect to do at an in-person event without having to travel. And it's free! Register now.Some Expo highlights include:- discovering how to select a program... View full entry
Live Blog: (Afternoon) Equity by Design: Knowledge, Discussion, Action!
After a glorious lunch in the sun, looking out over the bay, we're back for the first afternoon session. (You can catch up on our morning session here.) (You can also view the full survey results from the Equity in Architecture Survey 2014  here.)Amber Evans, senior associate at GouldEvans, is... View full entry
Live Blog: (Morning) Equity by Design: Knowledge, Discussion, Action!
There's a sold-out crowd for the big Missing 32% event today in San Francisco, at the gorgeous San Francisco Art Institute. We're in an intimate auditorium for introductions and recognition of sponsors who collectively shared $34k for the symposium.8:49 am: Rosa Sheng is explaining how she... View full entry
Where are the women? Measuring progress on gender in architecture
Lian Chikako ChangWith recent conversations on gender in architecture fueled by Julia Morgan being the first woman to receive an AIA Gold Medal, the controversy around the Pritzker Prize and Denise Scott Brown (shout out to Women in Design and to DSB who celebrates her birthday today), and of... View full entry
Explore Data on Over 1,800 U.S. Programs in Architecture and Related Fields
At the ACSA, we are most familiar with the 127 U.S. and 11 Canadian schools with accredited architecture programs, but prospective students and the public are seeing a much broader context. We wanted to learn more about all the institutions that offer programs in architecture and related fields... View full entry
Images from ACSA's Open Cities conference in Seoul
ACSA recently held our biennial international conference in Seoul, South Korea, and we wanted to share some pictures from around the city, and of the event itself.The exquisite Korea Furniture Museum.Foundation detail at the Korea Furniture Museum.Lower plaza level at the Dongdaemun Design Plaza... View full entry
Toyo Ito's Keynote at the ACSA International Conference in Seoul
We are in Seoul, South Korea at the esteemed Ewha Womens University, the world's largest female educational institute, for the ACSA's International Conference, Open Cities, and it's time for our closing keynote, delivered by none other than Toyo Ito. Ito-san's website includes the... View full entry
Animated sectional diagram of Toyo Ito's Metropolitan Opera House in Taipei
Your Jurisdiction and You
If you're lucky, you could live in a state that wants your school to be responsible for both the education and the training of architects!Expect cautious optimism over the National Council of Architectural Registration Boards (NCARB) endorsement of a path for students to earn an architectural... View full entry
Licensed at Graduation: NCARB Endorses Plan for Architecture Students to Complete IDP, Examination While in School
On Friday, the National Council of Architectural Registration Boards (NCARB) announced their endorsement of a new path for architecture students —licensure upon graduation from an accredited program. Developed by the Licensure Task Force, a group comprised of leaders from NCARB, AIA, AIAS, NAAB... View full entry
ACSA Atlas examines economic outlook, demographic representation among students and faculty, and salaries
The ACSA Atlas is an ongoing project examining architectural education in relationship to demographics, higher education, the profession, and the economy. We've just released a new set of graphics! This is a simple count of architects per state compared with population per state. (See in full... View full entry
The Journal of Architectural Education Gets a New Look from Design Studio Project Projects
Since 1947, the Journal of Architectural Education (JAE) has been the primary venue for research and commentary on architectural education. The flagship publication of the Association of Collegiate School of Architecture (ACSA), published through Taylor and Francis, has been through many... View full entry
Architecture school survey shows trends in budgets, applications, enrollment, and faculty hiring.
ACSA conducted its fourth annual budget and enrollment survey of member schools this fall, asking programs about changes to their budgets, enrollment and applications, and hiring patterns. The results from 60 schools in the United States and Canada showed architecture programs facing slight... View full entry
What Fast Co. Design Gets Wrong, and Other Manufactured Outrages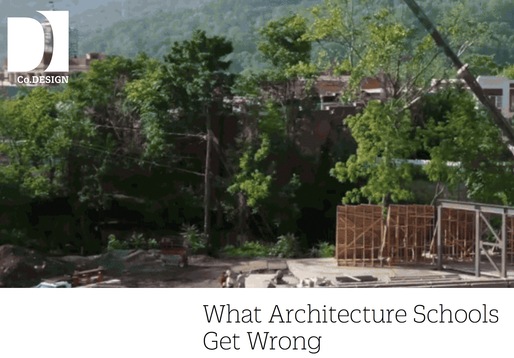 Architecture school design/build programs, in which students both design and construct a project at full scale, can provide a tremendous learning experience. This is why over 70% of accredited architecture programs in North America have them (data here). Fast Company Design recently highlighted a... View full entry
Gender in Architecture School Leadership
Hello Archinect, I've been organizing spreadsheets, crunching numbers, and attending meetings, but this is the first graphic I've produced at the ACSA, so I wanted to share it here. This one counts deans, directors, heads, and chairs in candidate and accredited architecture schools in... View full entry
Images from Boston Society of Architects' College Fair at Wentworth Institute of Technology
Hello! Just wanted to share a few pictures from the BSA's Architecture/Design College Fair, held at Wentworth Institute of Technology. There was a good turnout of prospective graduate and (mostly) undergraduate students to talk with representatives from fifty schools from around the USA... View full entry
Journal of Architectural Education Reviews Over 40 Proposals for Future Issues
The University of Pennsylvania School of Design hosted the editorial board of the Journal of Architectural Education this weekend. New executive editor Marc Neveu and the editorial board reviewed more than 40 proposals for themes of future issues. Writers from around the world responded to the... View full entry
Architectural Research European Network Association (ARENA) Launches
Hello Archinect, Just sharing a press release from our friends across the pond. Lian *** Launch of the ARENA research network September 2013 The Architectural Research European Network Association, known as ARENA, has been launched as an open, inclusive and comprehensive network for architectural... View full entry
What happens after graduation? ACSA begins a Career Outcomes Data Effort
By Lian Chang, ACSA Director of Research and Information How well did your architecture school prepare you for professional practice—or for careers outside of architecture firms? Is the gender imbalance that we see in the profession's upper echelons beginning to change in the... View full entry
Is There Global Competition for Students and Graduates?
By Michael J. Monti, ACSA Executive Director This year's meetings of the European Heads of Schools of Architecture took up familiar themes of managing change within budgetary and other constraints, but one day's discussion was particularly relevant to the North American context. In... View full entry
New ACSA Blog (and College + Career Expos in SF, Dallas, Chicago, Boston)
Hello! The ACSA will now blog from this little corner of Archinect, sharing news, events, and conversations about architectural education in the USA, Canada, and beyond. What is the ACSA? To start, we are not the National Council of Architectural Registration Boards (NCARB)... View full entry